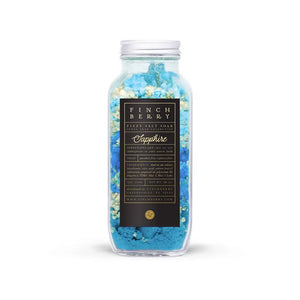 These Fizzy Salt Soaks combine bath bombs with dead sea salt for a magical and relaxing experience.
Soften your skin while heightening your mood with this new, luxurious bath treat.

Scent: Sapphire harnesses the exhilaration of a coastal sea spray infused with the rich scent of warm amber to craft the tranquil moment you deserve. This scent transcends your traditional cleaning routine and allows the cascading blue colors to provide the ultimate self care experience.
Ingredients: Dead sea salt, Sodium Bicarbonate, Citric Acid, Sodium Lauryl Sulfoacetate, Grapeseed Oil, Polysorbate 80, Fragrance, Mica