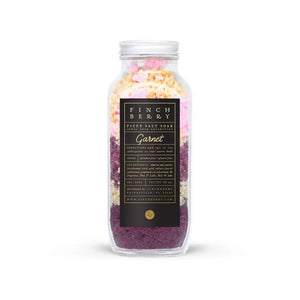 Our Fizzy Salt Soaks combine bath bombs with dead sea salt for a magical and relaxing experience.
Soften your skin while heightening your mood with this new, luxurious bath treat.

Scent: Garnet mixes the zesty scent of grapefruit with the subtle, floral tones of lily. This blend is perfect for freshening up in the mornings and evenings, with enough sweet-smelling goodness to last all the hours in between. 
Ingredients: Dead sea salt, Sodium Bicarbonate, Citric Acid, Sodium Lauryl Sulfoacetate, Grapeseed Oil, Polysorbate 80, Fragrance, Mica