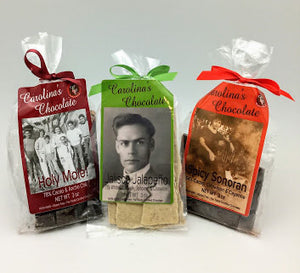 CHOCOLATE SPECIFICATIONS:
Buttery beginning with cinnamon, vanilla & cream

31% Cacao Butter, Cinnamon & Jalapeño

Ingredients: Cacao beans, pure cane sugar, cocoa butter, sunflower lecithin, vanilla beans, Jalapeño & cinnamon

Non-GMO, fair trade certified chocolate

3 ounces

Locally Made: Mesa, Arizona
Heat Level: 🌶
Turn up the heat and enjoy ALL flavors as a flight, much like wine - purchase together or enjoy FREE sampling in-store. In Arizona, it gets hot! Season Shipping is available during November-March only, FREE local pick-up available year-round.
———
ABOUT CAROLINA'S CHOCOLATES:
These "spicy," but yummy chocolates take you through different levels of heat, flavor, and a bit of heritage. Carolina's Chocolate began with Carolina and her home cooking, along with the rest of her family in mind. Carolina is the grandmother of local Mesa artisan-chocolatier, Lisa Toon, creator of Carolina's Chocolate. As pictured, each of Carolina's Chocolates tells a story and how he/she/they reflected in Lisa's life.
"JALISCO JALAPEÑO" HISTORY/HERITAGE:
As pictured, Carolina's husband, Lisa's Grandfather. He loved Carolina's rice pudding, and Lisa decided to recreate the favors as "Jalisco Jalapeño," much like resembling the flavors of Horchata.